Great opportunities available! Check out the Job Openings tab!

Join our team!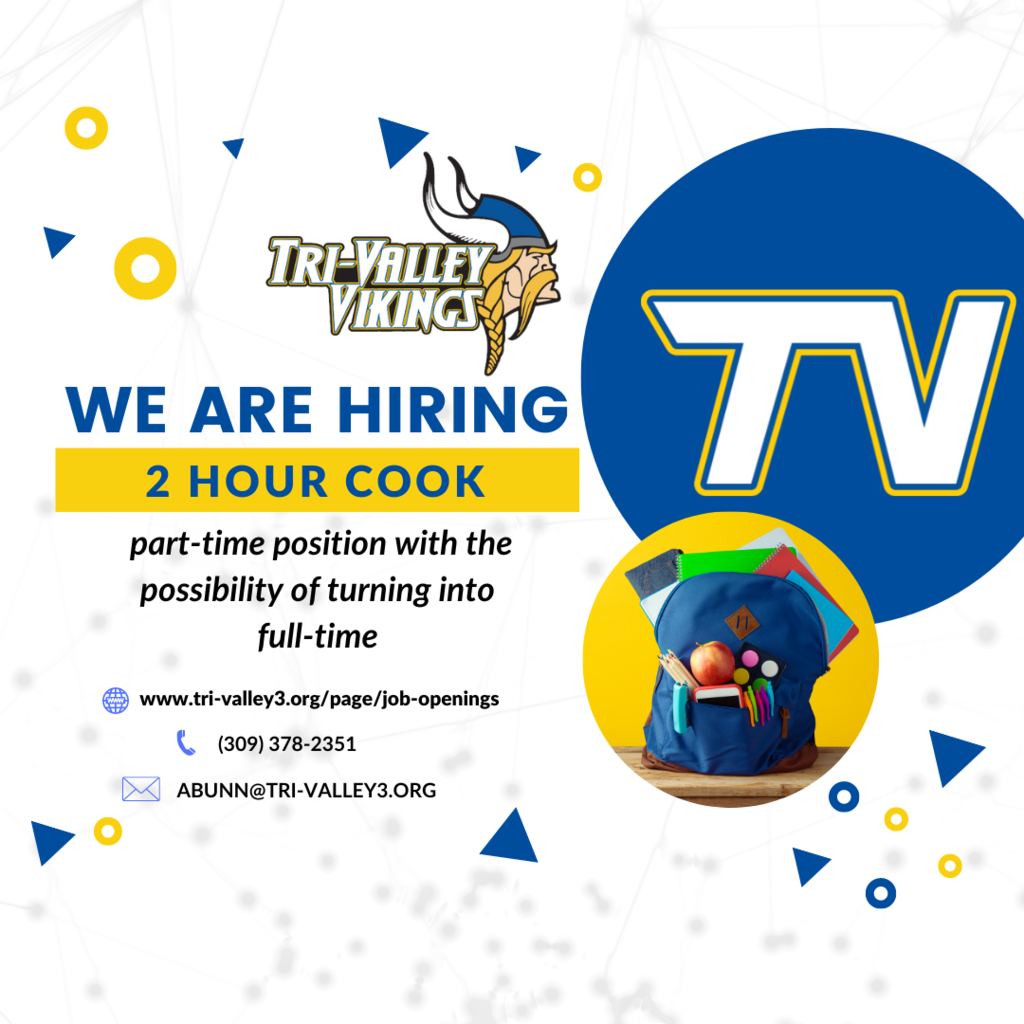 Meet & Greet tonight at TVHS! Come out to meet the Board of Education candidates before voting on April 4.

Congratulations to Frank and Mary Jo Roop (#24) who just won the Viking Night Early Bird Drawing of $300. There is still time to get your ticket for Viking Night! Don't delay we have already sold more than half of the available 250 tickets. You do not need to be present to win. Grand Prize of $5000 and more than $5000 in cash prizes, silent auction and live auction on May 5.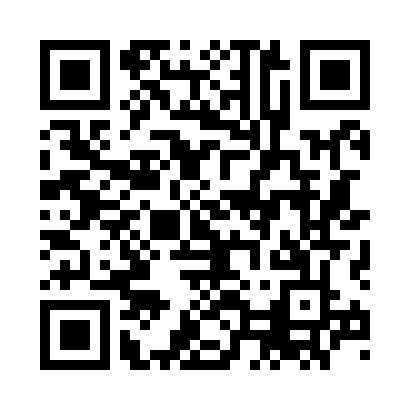 The Board of Education meeting scheduled for May 17 has been rescheduled for May 10. The calendar of meetings can be viewed by clicking the Board of Education tab at tri-valley3.org.

8th grade volleyball is headed to state! The girls defeated Eureka Monday night and will play in Pana on Friday in the IESA State Tournament. GO VIKINGS!


TVES Families - If your student has an interest in playing (or learning to play!) chess, we would love for them to join the new TV Chess Club! This Club is open to all elementary grade levels (K-3) and all skill levels. If your student is interested but has never played in a group setting before, or even needs to learn the basics of piece-moving, our practices will aim to provide kids with both skill-formation as well as the opportunity to try out their new moves with peers who are learning right along with them. More advanced students will also have the opportunity to learn from and play against our older student volunteers and adults. This first Spring season will be focused on building up student participation and training, with the potential for tournament play beginning next year. There is no cost to join, though there may be future fees to help defray the cost of tournament registrations and other club-related activities (TBD). All equipment for practices is provided by the Club - all we need is you and your enthusiasm for chess! Practices will begin on March 16, 2023, from 6-7 pm, and will be held in the TVES Library. Parents may drop off their student(s), or are also welcome to stay and observe as space allows. If you have a student who is interested in participating, before March 16, please send an email to Ben & Whitney Leifheit at
whitney.leifheit@gmail.com
with the name of your student(s), their age and grade level, and their current familiarity and experience with chess, to allow us to plan ahead as much as we can. We look forward to making this a great first season!

Aaron Reynolds visited the TVMS Library today! 4th, 5th, and 6th-grade students and teachers enjoyed an engaging presentation about his life as an author and his famous book series The Incredibly Dead Pets of Rex Dexter and Fart Quest. It was a fun day for everyone!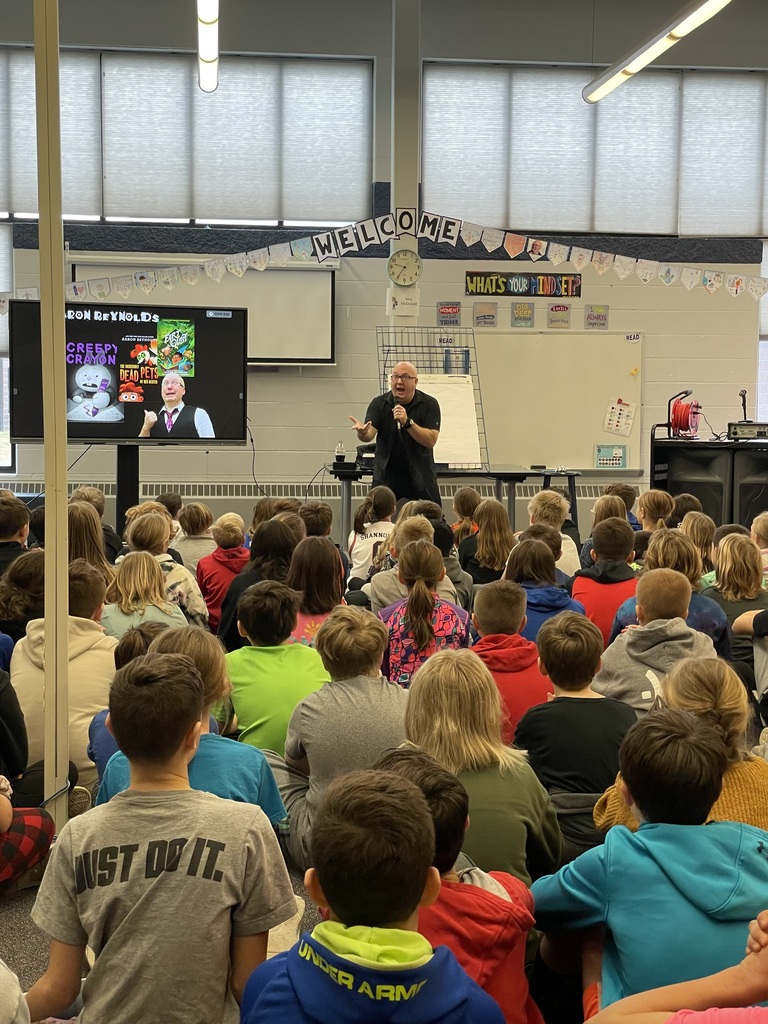 Congratulations to Kelsey Bartels on earning second team All Conference basketball honors, Addy Freihaut on receiving an All Conference Honorable Mention, and Izzy Hasselbring on receiving an All Defensive Team Honorable mention. Congratulations ladies & GO VIKINGS!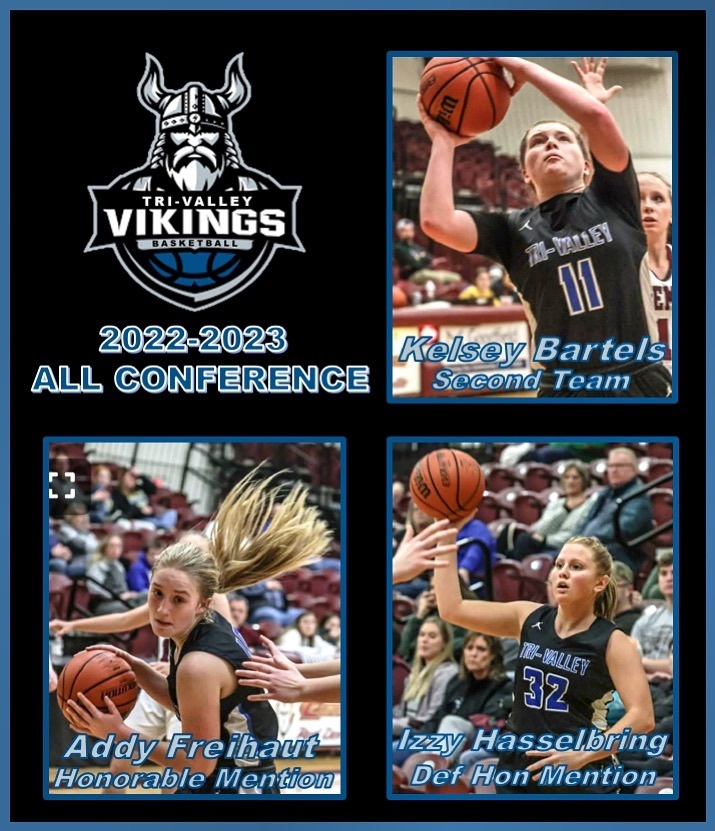 Join us on Friday, March 10 or Saturday, March 11 at 7pm for the Faculty/Alumni Play, "Complaint Department and Lemonade" In this rapid succession of hysterical grievances, the complaint department takes on everything from Oreo icing to kleptomania and from songs stuck in the head to the price of cheese and on and on and on. Could there be a glimmer of hope for anyone in charge of a complaint department? Tickets are on sale now.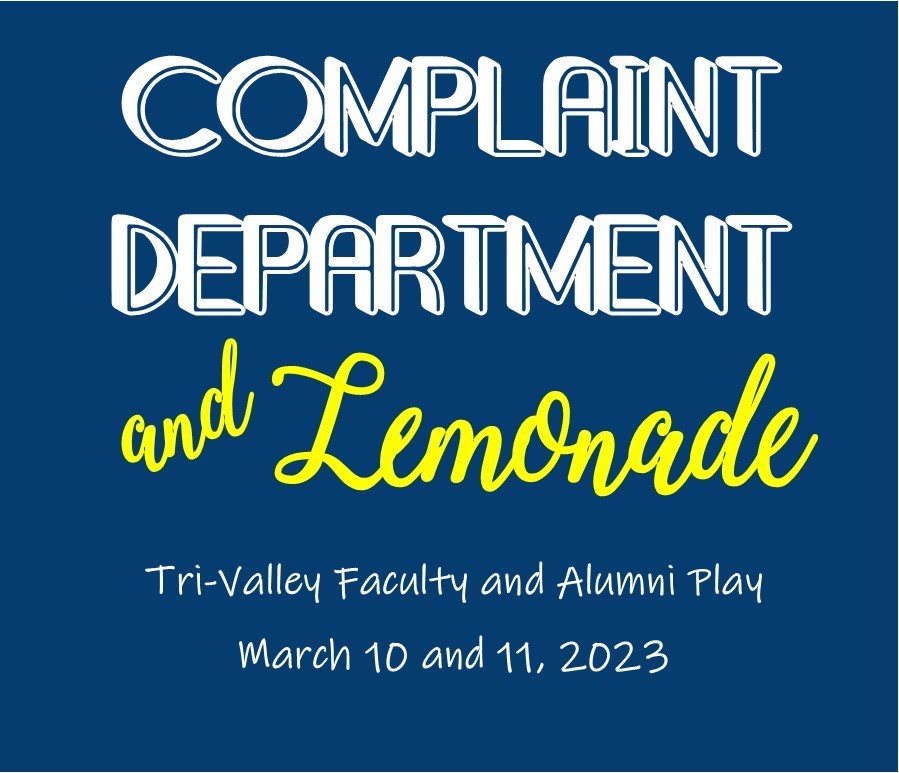 Tri-Valley Fine Arts Boosters is hosting a Trivia Night fundraiser on Saturday, March 4. Get a team of 6 together - invite family, friends, co-workers or neighbors - and enjoy a fun night of trivia with Twin City Trivia. Proceeds help support the fine arts programs district wide. Sponsorships are also available for each round of trivia.
https://www.vancoevents.com/us/eventlist/tvvikings?embed=1

Visit the Job Openings tab for a full list of openings!

Lots of opportunities at Tri-Valley Schools! Visit the Job Openings tab for a full list.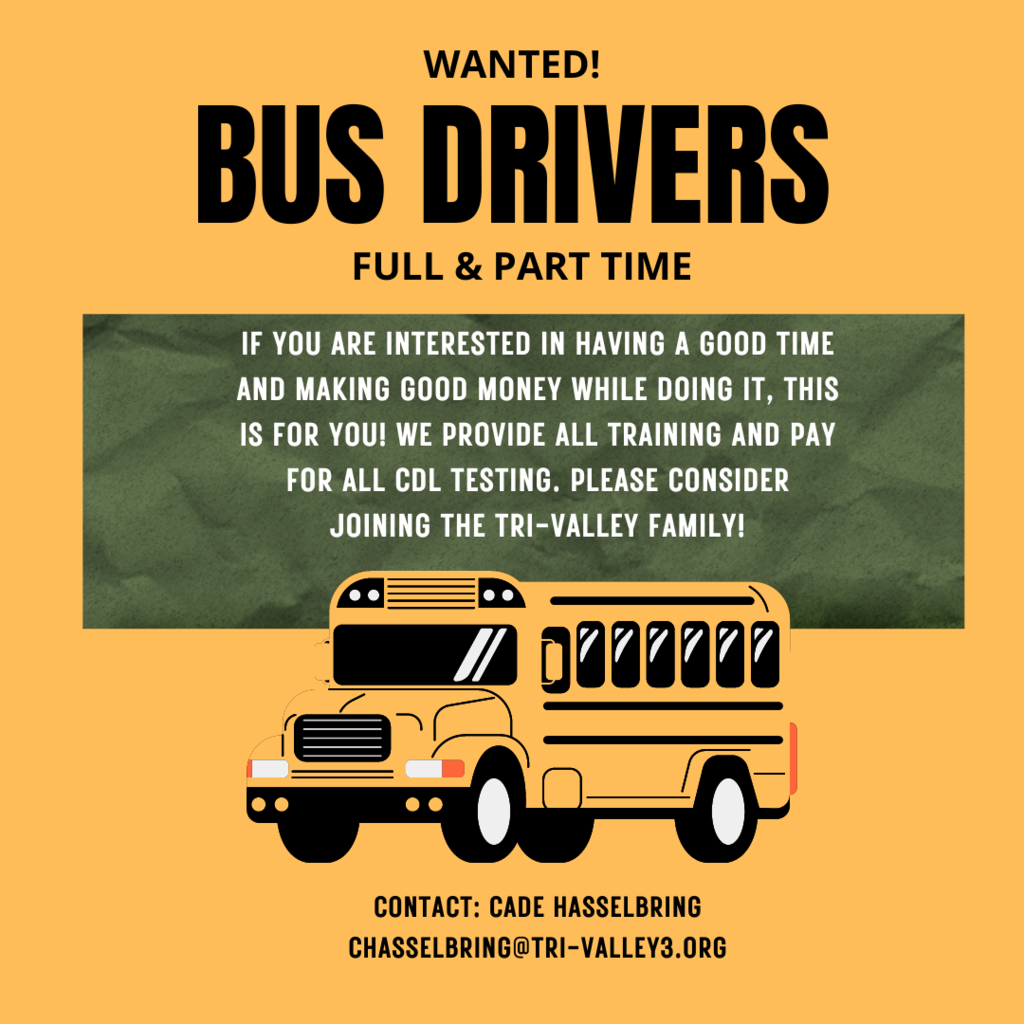 Join our team! Great opportunities available at Tri-Valley Schools!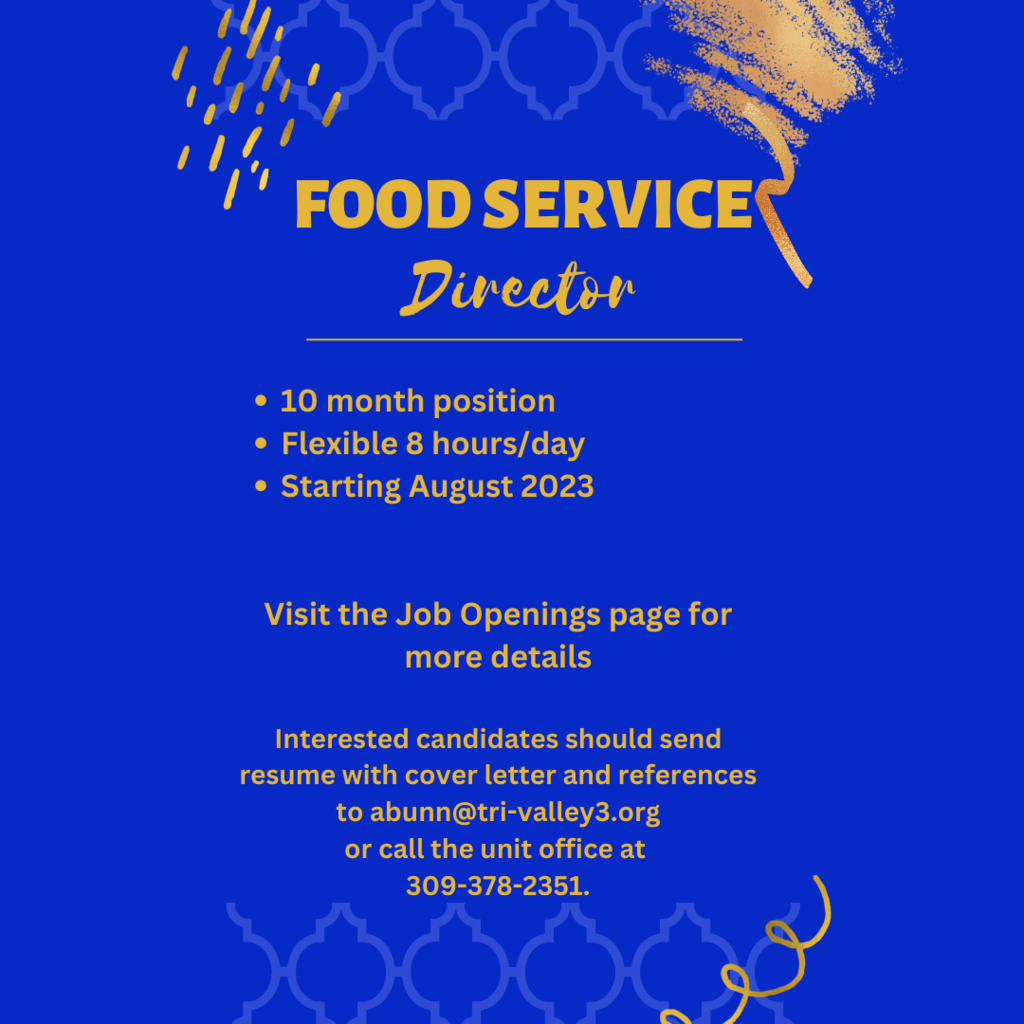 Congrats to the Varsity Girls Basketball team for advancing to tonight's IHSA Regional Semifinal at 7:30PM at Paris. The Paris HS gym had unexpected damage to their floor so they are playing an alternate location. The game will be played at Ernie Eveland Gym, 309 South Main Street, Paris IL 61944.

LTV Wrestlers Brady Mouser, Koby Brent, and Jacob Bischoff advanced to the IHSA State finals out of the Clinton Sectional Saturday. Mouser finished 2nd losing 3-2 in the Sectional championship, while Bischoff finished 3rd. Both will wrestle Thursday at the State Farm Center at U of I.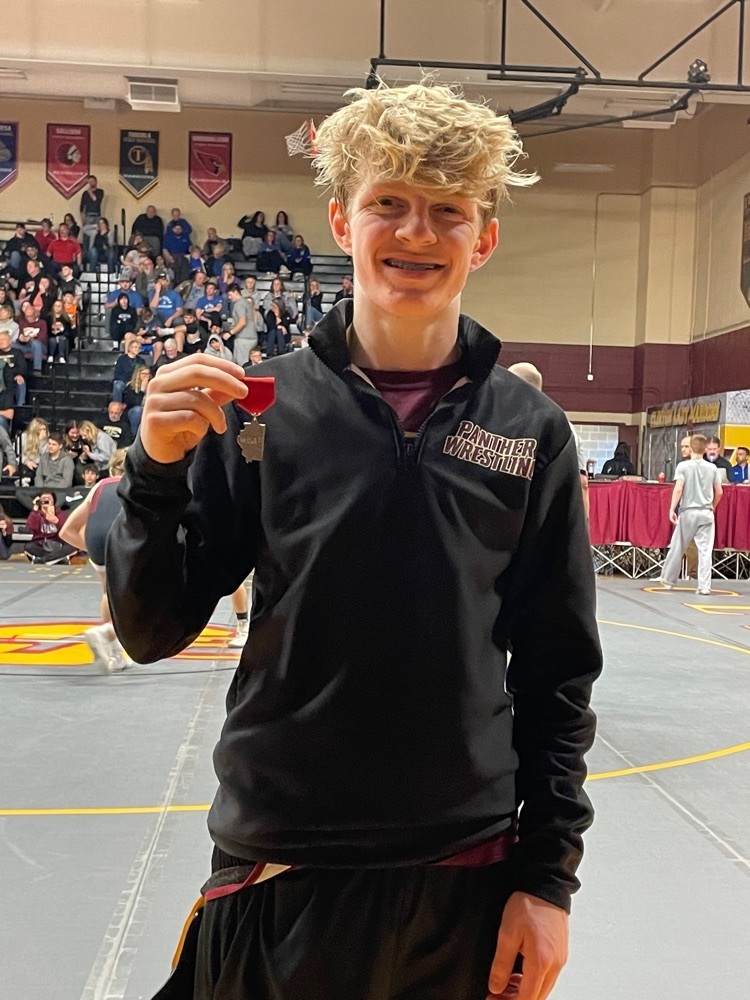 Another great opportunity available at Tri-Valley CUSD #3! Check it out!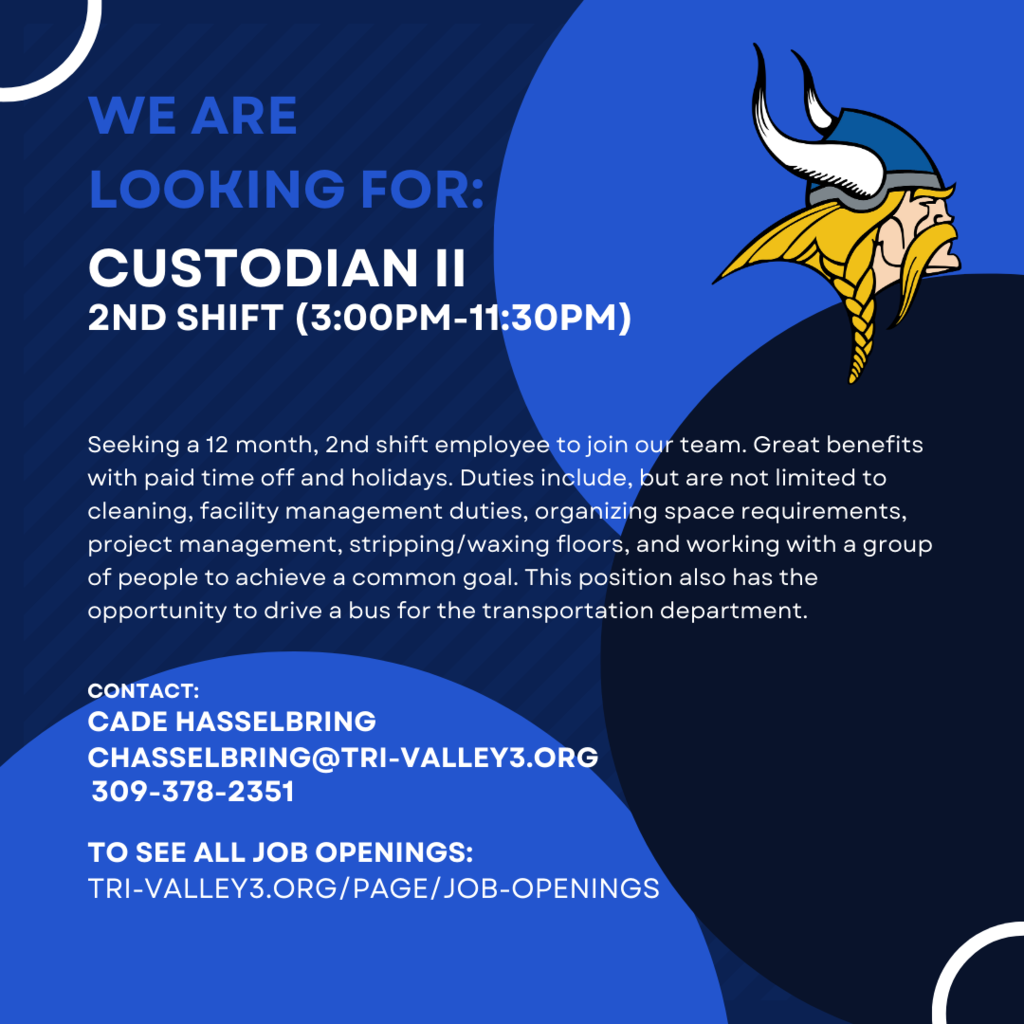 Come join our team! We currently have 3 positions posted.